27 Feb, 2014 – leave a comment
Just over 2 months ago I left Deutsch LA to open the LA office of my former consultancy, Undercurrent. While I'm incredibly excited about UC's mission (to transform organizations to be more responsive), I left behind a cadre of brilliant thinkers and makers – inside my Inventionist group and in the agency at large – who are just beginning to get the recognition they deserve.
Make no mistake – creating anything that isn't specifically designed to fill a media hole is a herculean effort in any agency and no shop is more obsessed with making it work than Deutsch LA. I can assure you that even more brilliance is on its way from this group …
Check out Fuelcaster, the service that helps you decide whether to fill up tonight or wait for tomorrow.
23 Jan, 2014 – 2 comments
We used to believe that each of our clients had a unique problem. After hundreds of projects, we realized we were wrong. There is a single root cause slowing down the most capable companies on the planet: they are using an antiquated operating system to confront the speed of the 21st century. Today's winners and losers are decided based on how responsive they are to culture, to consumers, to competition, and to the other forces of disruption.
With that in mind, every project we do helps to upgrade our client's operating system to what we call Responsive OS. The end goal is to help legacy organizations compete with the digital upstarts that threaten them.
Responsive OS is made up of five nested domains creating a rich interplay between the why, how, who, and what of the organization:
07 Jan, 2014 – one comment
A month or two ago, via this blog, I put out a call for feedback from people tasked with changing big organizations from the inside out.
Thanks to that feedback, I wrote some words for Fast Company:
HOW TO DISRUPT YOURSELF: THE HIGH COST AND BENEFITS OF HIRING MISFITS
The article is based on the responses I received from readers like you along with my own experience in a big company.
Thank you to everyone that gave feedback. A sincere thank you to Winston Binch, who is the 'boss' in the article that genuinely (and fervently) supported me in all my efforts, and to my former teammates Rachel, Christine, and Celestine who I name check in the article but deserve more props than that.
Let me know what you think.
01 Jan, 2014 – leave a comment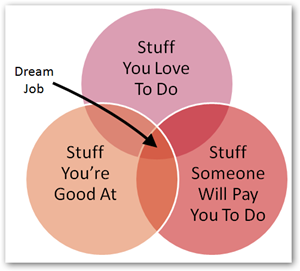 In 2009, I drew a venn diagram in my notebook and then thought to publish it to my blog.
Since then, the image has spread far and wide across the web and the idea at its core has been remixed and re-appropriated by people representing varying cultures and groups.
Often, when a similar image pops up, someone will try to defend my original claim to the concept.
I am proud to have given a simple visual form to such a compelling idea for so many people. But I also know that in the age of the web, you must come to grips with ideas being re-appropriated and altered. The sign of a good idea is that it can become a stage for others to perform and thus share with their network. I do greatly appreciate it when people give me credit for inspiring them, but I also don't always demand it. The internet remembers, after all.
Just as a reminder, this is available in poster form, too.
30 Dec, 2013 – leave a comment
Here it is, the top 5 most read posts from WhatConsumesMe in 2013. Thank you as always for reading and here's to an ever better future together in 2014.
It seems appropriately meta to start a Top 5 list with a Top 5 list.
Choice Quote: "No single person manifests change, change is something that happens to you whether you're prepared or not."
There isn't a CMO not talking about creative innovation, but not every marketing organization has what it takes to actually produce innovative work. This is a laundry list of learnings from running my own innovation team at a big ad agency.
Choice Quote: "In order to juggle multiple Inventions at once, organizations are benefitted from adopting a pipeline structure similar to the methodology used in the pharmaceutical industry."
I was talking about Tinder back in January. In case you're keeping score, Mashable's first mention of the now de facto dating app was in May. That's right, readers of WhatConsumesMe can see 4 months into the future.
Choice Quote: "Everything Facebook isn't right now – anonymity, zero effort, and UI genius."
A post-mortem view into working with Facebook apps, Like data, and the unlikely return of micro-sites.
Choice Quote: "Facebook, in a brainstorm with our team, actually discouraged us from building the experience on their platform."
Over 338k views on Slideshare, that's bananas!
Thanks, again, dear reader.
19 Dec, 2013 – leave a comment
The blogger's blogger Jason Kottke (in a purposefully incendiary post) just declared the blog to be officially dead:
Sure, blogs still exist, many of them are excellent, and they will go on existing and being excellent for many years to come. But the function of the blog, the nebulous informational task we all agreed the blog was fulfilling for the past decade, is increasingly being handled by a growing number of disparate media forms that are blog-like but also decidedly not blogs.
Jason's not wrong. Social is our center of gravity these days, where our day starts and ends. Domain names are increasingly less valuable. Portals are throwback concepts. We should have never expected RSS to become a widespread human behavior (it belongs to the machines). The Buzzfeeds of the world have built empires off aggregating gold across the blogosphere and re-packaging it in the most link-bait ways. Communities like Reddit let you comment on anything and everything without needing a single point of view (which blogs have pushed most of us into).
While all of this is true, and blogs might be circling the grave, I wouldn't pick out the coffin just yet. Forty thousand people visited my blog this year (that's twice the size of my hometown) and spent a total of 50 days time consuming its content. My blog is a safe place where I can try out all of my new ideas, without the need to be pithy or friend-safe, and it also helps me collect all of my favorite reads in one place. My blog is my best resume and I don't think I would have landed any of my recent jobs without the product and process of it. I've met some of my best friends and most revered colleagues through it. If I tried to put a monetary value against it, personally, it's the most valuable asset I have.
Like Jason, my top referrer is social (Twitter to be precise). But my second top referrer, even above Facebook, is one of my favorite blogs on the planet.
I still urge every aspiring-whatever fresh out of school to start a blog. I still think most companies need one. Nothing makes you sharper than trying to say something worth listening to and nothing can attract like-minded friends and followers than a mountain of concerted attempts. True, you have more places than ever to publish your content and there are benefits to be had in the exchange. But if you have a laser focus, an obsessive set of typing fingers, and a reality distorting ambition, give it a shot.
Or not. Less competition means more reader's attention for me.
10 Dec, 2013 – one comment
A compass, I learnt when I was surveying, it'll… it'll point you True North from where you're standing, but it's got no advice about the swamps and deserts and chasms that you'll encounter along the way. If in pursuit of your destination, you plunge ahead, heedless of obstacles, and achieve nothing more than to sink in a swamp… What's the use of knowing True North?
When in the process of helping a client transform their practices and outputs, knowing the right thing to do is a paltry 1% of the challenge.
The difference between a great partner and an empty suit is in the navigation of organizational, political, and cultural swamps.
02 Dec, 2013 – leave a comment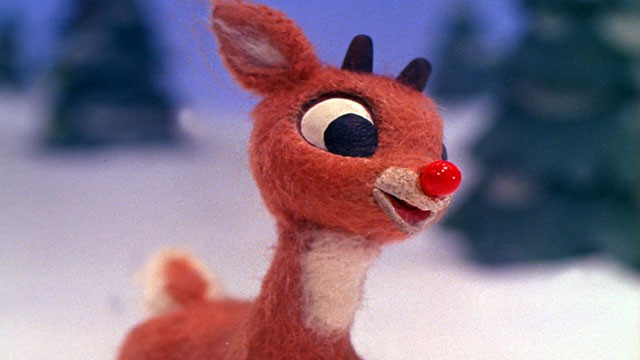 Are you a misfit toy inside a big organization?
Meaning, do you represent a different background, set of skills, mindset, or approach and find yourself struggling with entrenched processes, values, and priorities in a mid-to-big company?
If so, I'd love to ask you a couple questions, starting with this survey.
I want to get to the heart of two questions:
What can organizations do to keep misfits engaged and productive?
What should misfits know before taking a job in a big company and what should they expect?
Please do me the honor and favor of passing on the survey link in your networks. I promise to report back.
06 Oct, 2013 – one comment
Just a heads up that things will be quiet here for the next 2 weeks.
I went and got married and now we're off on our honeymoon. No wifi. No email. No work. No stress. We hope.
21 Sep, 2013 – one comment
A look back at the one year anniversary of Inventioni.st
Here's to our clients: the brand team. Also known as the planners. The worriers. The stress eaters. The scapegoats. The keepers of the brand. The ones expected to best last year's sales with less time and fewer dollars. You can blame them, berate them, scoff at them, or label them but they sell what they're given. They wrangle retailers, contain creatives, and forge financial plans. They're not fond of social media uprisings. Or management's shifting focus. But they deliver. Quarter after harrowing quarter, committee after mind numbing committee, they endure.
In a world gone digital, with technology empowering consumers, reshaping industries, and disrupting just about everything …
why hasn't the brand team's job gotten any easier?
Classically, the marketing department's role within the larger organization has been to spread value. To distribute a product and message across geographical boundaries and into the hearts and minds of a consumer. Today, of course, it's not so simple:
In almost every category, brand teams face what Rob Walker calls "the pretty good problem." There's no such thing as a bad potato chip or a bad automobile. As consumers, things are great. As marketers, it's never been harder to differentiate our products.
Competing for attention is a contact sport. In a world where everyone has access to 900 channels, 500 friends, five screens filled with apps, and 9 million cat videos, big audiences are expensive to buy and almost impossible to effectively engage.
In short, brands have less to say and more barriers to saying it. So what's the answer?(hint: it's not coupons)
The brand team comes to the rescue.
In the face of these mounting challenges, what's the brand team to do? Well, for many clients, the answer has been to tackle the problem head-on.
What began as a marshaling of research capabilities in-house over two decades ago has become full service creative today. One study found that 58% of brands now have an in-house agency of their own. Brands like Red Bull, Chipotle, and Apple have excelled with in-house services, whose offerings go far beyond strategy. In-house agencies today are planning and buying media, managing in-store marketing, running social accounts, devising and implementing digital campaigns, and operating digital platforms.
But not every client is ready to go in-house and even when they do, there are tradeoffs. The same study found two growing concerns from CMOs and brand teams with in-house capabilities: 1) the ability to stay on top of trends and 2) a lack of creative innovation.
The first is a universal problem. The lifespan of a trend has simply gotten shorter. Creative agencies, too, scramble to strike while the cultural iron is hot (and make fools of themselves when they fail). Agencies might have the advantage, but only because we tend to hire younger, hipper, and more culturally conscious people. The best clients have already stolen this page from our playbook.
Creative innovation, on the other hand, is more complicated …
How do brand teams manage to find time, money, and ability to innovate while juggling even greater responsibilities?
"The important thing is this: to be able at any moment to sacrifice what we are for what we could become."
― Charles Dubois, Naturalist
Very few organizations are capable of disrupting themselves. As organizations grow, disciplines become silo'd and separated as management looks for ways to increase efficiency and reduce waste. Process, by design, is an error-reduction strategy. Therefore most organizations are optimized to serve today's business model at the cost of tomorrow's. And while the average brand team is measured by last year's sales, if not same-day-sales, the risk of failure inherent to innovation is often too much for an organization to stomach.
With that level of risk aversion, is it any surprise that a Nielsen study found that new product innovation enjoyed 80% higher revenues if management had little to do with its conception or realization. Distance, both literal and figurative, is one of the best predictors of creative innovation's success.
"You can't put a Six Sigma process into that area and say, well, I'm getting behind on invention, so I'm going to schedule myself for three good ideas on Wednesday and two on Friday."
― George Buckley, CEO, 3M
There are many activities that clients can ultimately bring in-house, but creative innovation will always benefit from outside help. And as attention spans decline, categories become disrupted, and new competitors emerge – creative innovation, the ability to reach consumers in novel ways with novel messages, is more important than ever before.
One year ago this month
, we created a new service offering at
Deutsch LA
dedicated to creative innovation. We dubbed it
Invention
and we built it with the brand team in mind. That means we designed it first and foremost to be fast and accessible. In only 5 days, for as little as $10,000, our team will define the problem at hand, concept solutions, and test ideas with real users. The result is an immediately-actionable set of creative innovations designed not only to earn their own attention but to solve real brand and business objectives. From there, we work hand-in-hand with the 170-person digital department at Deutsch LA to bring ideas to life as prototypes and, finally, as fully formed products. We also sell our know-how, holding one day collaborative sessions with our brand teams in order to emerge with multiple ideas to flesh out in code.
It's a completely new model for creativity. One that has challenged us as an agency and has transformed us as creatives. We hire, staff, work, and think differently. But we still speak client. Creative innovation is critical, but so are the other 99 things on the brand team's to-do list.
Since our inception, we've been incredibly fortunate to work with and learn from smart brand team partners at Target, Esurance, Diamond Foods, Volkswagen, and the New York MTA.
We've launched the first quantified self app for driving designed to make driving more fun. We solved one of humanity's greatest problems – burnt popcorn – with a simple yet fun utility. We helped a small brand out compete a big brand with a digital strategy centered around innovation that punched like a campaign with three-times its budget. In our down time, we built the world's first real-life Like sign, launched a net-worth guessing game, kept a running tally of our favorite creative innovations, and published two years of startup trends.
And yet, only a year old, we're just getting started. If our projects in the pipeline aren't cooler than what we've already launched, we're doing it wrong. This post is dedicated to our clients because without them, we'd still be a bunch of misfit toys without an island to call home.
Finally, for those clients and agencies experimenting with creative innovation …
we humbly submit these learnings from Year One of Invention.
What agencies need from clients:
Holistic Objectives: Here's an exercise. Put someone from each layer of your company's hierarchy in a room together. Write down your company's mission statement. Next to it, write down each person's stated quarterly objectives and what their compensation is tied to. After that, write down the tagline of your current ad campaign. Spend the next 90 days (to infinity) dealing with the confusion and conflict you just made sorely visible.
Dedicated Budgets: The typical marketing budget is a game of whack-a-mole. Use it before you lose it, or before the CMO restructures it. Creative innovation requires a dedicated and predictable budget. We typically instruct our clients to put aside 10% of their marketing budget toward innovation.
Leadership: If innovation requires distance, organizational flexibility, and endurance, agencies need an internal innovation sponsor to navigate the political waters.
What clients need from agencies:
Diversity: Agencies need not only learn how to hire the heretics, but how to retain their passions, energy, and service on behalf of brands. Having former MIT alum sitting with Miami Ad School luminaries isn't always harmonious, but it is creative.
Accessibility: Buying innovation is risky. Not buying it is riskier. But agencies have to have empathy for the day to day firefight of brand teams and the scant amount of available resources. The price of admission for innovation should be kept accessible.
Endurance: The typical creative partner tends to be like a child in the backseat of a road trip, moaning "Are we there yet?" Creative innovation requires patience and an attention span longer than a thirty-second script.
"Innovation distinguishes between a leader and a follower."
― Steve Jobs
Advertising as we know it is over 200 years old, and despite her faults, the old lady has aged remarkably well. Invention is merely the latest discipline to emerge in response to changing media, consumer behaviors, competitive responses, and overall expectations (we're bullish on data strategy, too). And while we've seen a number of similar players crop up in the last six months (welcome to the club, Humanaut, Siberia, Makeable, and others), we think the trend is just getting warmed up. We humbly submit that our offering is different because we are part of the Deutsch LA creative department, not isolated from it. We have the resources not only to execute product work, but we have the storytellers to ensure it breaks through the noise and innovation fatigue in the market.
If you're a brand team member looking for creative innovation help, consider dropping us a line.