31 Mar, 2014 – leave a comment
Readers, I've moved!
If you want to follow my thoughts, get thee to Responsive.org.
Our editorial mission is simple: find people across the globe that are struggling to change their organizations for the better and do everything we can to help them.
I might still post here from time to time, but it's likely to become more personal.
24 Mar, 2014 – leave a comment
What if Elon Musk ran a major Hollywood studio?
What could Hollywood learn from design thinking, agile software development, lean manufacturing, and sociocracy? What do edge cases like Veronica Mars mean for Hollywood's future? How worried should the movie business be about House of Cards, True Detective, and Breaking Bad? What about Oculus Rift? What about gaming?
What's the studio of the future going to look like? How is the movie of the future developed and distributed? What needs to change and who is poised to win and who is destined to lose?
Do those questions tantalize you? Come help me answer them. I'm looking for 2-4 strategic brains to wrestle this topic with me over the coming few weeks. Geography is irrelevant. Entertainment experience is a plus. Tenacity and persistence mean most of all. An education in Responsive OS comes with the process.
Signup to help at Responsive.org. More details will follow.
13 Mar, 2014 – 9 comments
Three months ago, I quit the ad industry.
I withdrew from a talented tribe of makers and thinkers at my agency. I left a team of my own creation that stood out in the industry. I turned my back on a handful of accolades and recognition. After years spent banging the drum of invention in the ad world, I put my mallets down and walked away.
Why?
I was hired to champion and produce a new kind of creative output, but ultimately, my biggest challenge wasn't better briefs, better talent, or even better ideas. With a team effort, the work got better. We hired some amazing people. The not-so-amazing people eventually left. My group, and our work, wasn't always accepted – that's true. Like a transplanted kidney, the organization struggled to not reject us. But still, this wasn't really the problem that drove me out.
It was the clients. They were awful.
But it wasn't their fault. Most of my clients were kind, curious, and generally optimistic people. Their organizations, though, were not kind, curious, or at all optimistic, especially about innovation or change. Processes and structures which valued consistency and control, even over adaptation and agility, killed good ideas before they could be tested. And with those ideas, the joy and excitement of invention perished with it.
There was the CMO who told us he couldn't touch the physical store. The entire marketing department saddled with lackluster products, unrealistic sales goals, and no innovation budget. The operations staff who were told to do anything to save a company from going bankrupt, so long as 'anything' had nothing to do with changing their products. The brand team that was told they could only invest in 'working media,' even after earlier experiments actually grew their business. The legion of marketing managers given less budget and higher expectations year after year. Only on very few occasions, after months of sustained effort, did we ever carry an idea to term. Our clients simply gave up trying to win their own political battles. We were fresh inmates trying to convince resigned convicts to attempt escape.
Fortune 500 companies have such incredible power to reach the masses, do good on their behalf, and generally improve their lives. I'm still attracted to that scale. But if we want to do more with that influence than just fill a media space, if we want to reward more than consistency, if we actually want to be partners with our clients in the creation of something new and amazing that only continues to grow and improve, we must redesign our client's organizations along with our own. And I couldn't do that within the walls of an ad agency.
So, after a few weeks of poor sleep, stress, and guilt, I embarked on this new mission and opened Undercurrent, Los Angeles (returning to a company I loved and left). In just a couple of months, my hunch that bad orgs are a widespread problem has been wholly validated. Companies today are using an operating model that emerged alongside the national railroad system. Imagine if you could only send emails to your colleagues via Pony Express – that's the level of mismatch of tool to environment that most companies are stuck with. The web has created a hot, flat, noisy, and connected world, a world of exponential change, and most organizations are stuck in the dried amber of a bygone era. Undercurrent has spent the last seven years studying the inner workings of a set of fringe organizations that have become mainstream (Zappos, Tesla, Twitter, Medium, Netflix, Valve, Google, and others), and have identified a series of practices and core values that make an organization responsive – able to do more and change faster in the face of overwhelming complexity.
These companies are lean, mean, learning machines. They have an intense bias to action and a tolerance for risk, expressed through frequent experimentation and relentless product iteration. They hack together products and services, test them, and improve them, while their legacy competition edits PowerPoint. They are obsessed with company culture and top tier talent, with an emphasis on employees that can imagine, build, and test their own ideas. They are maniacally focused on customers. They are hypersensitive to friction – in their daily operations and their user experience. They are open, connected, and build with and for their community of users and co-conspirators. They are comfortable with the unknown – business models and customer value are revealed over time. They are driven by a purpose greater than profit.
Our mission is to help every influential organization on the planet become a responsive organization. This will require new tools, new internal champions, new shared ideas, and new reserves of persistence and patience to be accomplished. First, we need to be able to measure this shift in order to affect it (you need a yardstick to know how far away from something you are). To that end, we've just published our first Responsive OS Audit using a company's public data. Read (and please share) our open letter to Yahoo's Marissa Mayer. We're also testing and refining an internal survey tool to pair with this public assessment.



Undercurrent, Los Angeles' Chief Transformation Officer
what's next
Soon, I'm going to retire this blog to focus my writing solely on the topic of Responsive Organizations. While I've fostered a small but incredibly supportive community of readers here, I'm now specifically searching for clients hungry for change, and change-makers eager to get their hands dirty. If you're reading this and thinking, "THAT'S ME!" then please sign-up to join our mission at our interim site. If you sign up, I'll let you know when the new site is live and how you can participate (potentially even working with us on projects).
Every new beginning comes with its own excitement, stress, and uncertainty. I could use all the help I can get toward our mission, and for all of our sakes, I'm not above asking for that help.
27 Feb, 2014 – leave a comment
Just over 2 months ago I left Deutsch LA to open the LA office of my former consultancy, Undercurrent. While I'm incredibly excited about UC's mission (to transform organizations to be more responsive), I left behind a cadre of brilliant thinkers and makers – inside my Inventionist group and in the agency at large – who are just beginning to get the recognition they deserve.
Make no mistake – creating anything that isn't specifically designed to fill a media hole is a herculean effort in any agency and no shop is more obsessed with making it work than Deutsch LA. I can assure you that even more brilliance is on its way from this group …
Check out Fuelcaster, the service that helps you decide whether to fill up tonight or wait for tomorrow.
23 Jan, 2014 – 2 comments
We used to believe that each of our clients had a unique problem. After hundreds of projects, we realized we were wrong. There is a single root cause slowing down the most capable companies on the planet: they are using an antiquated operating system to confront the speed of the 21st century. Today's winners and losers are decided based on how responsive they are to culture, to consumers, to competition, and to the other forces of disruption.
With that in mind, every project we do helps to upgrade our client's operating system to what we call Responsive OS. The end goal is to help legacy organizations compete with the digital upstarts that threaten them.
Responsive OS is made up of five nested domains creating a rich interplay between the why, how, who, and what of the organization:
07 Jan, 2014 – one comment
A month or two ago, via this blog, I put out a call for feedback from people tasked with changing big organizations from the inside out.
Thanks to that feedback, I wrote some words for Fast Company:
HOW TO DISRUPT YOURSELF: THE HIGH COST AND BENEFITS OF HIRING MISFITS
The article is based on the responses I received from readers like you along with my own experience in a big company.
Thank you to everyone that gave feedback. A sincere thank you to Winston Binch, who is the 'boss' in the article that genuinely (and fervently) supported me in all my efforts, and to my former teammates Rachel, Christine, and Celestine who I name check in the article but deserve more props than that.
Let me know what you think.
01 Jan, 2014 – leave a comment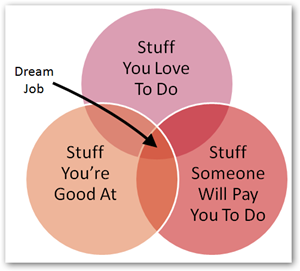 In 2009, I drew a venn diagram in my notebook and then thought to publish it to my blog.
Since then, the image has spread far and wide across the web and the idea at its core has been remixed and re-appropriated by people representing varying cultures and groups.
Often, when a similar image pops up, someone will try to defend my original claim to the concept.
I am proud to have given a simple visual form to such a compelling idea for so many people. But I also know that in the age of the web, you must come to grips with ideas being re-appropriated and altered. The sign of a good idea is that it can become a stage for others to perform and thus share with their network. I do greatly appreciate it when people give me credit for inspiring them, but I also don't always demand it. The internet remembers, after all.
Just as a reminder, this is available in poster form, too.
30 Dec, 2013 – leave a comment
Here it is, the top 5 most read posts from WhatConsumesMe in 2013. Thank you as always for reading and here's to an ever better future together in 2014.
It seems appropriately meta to start a Top 5 list with a Top 5 list.
Choice Quote: "No single person manifests change, change is something that happens to you whether you're prepared or not."
There isn't a CMO not talking about creative innovation, but not every marketing organization has what it takes to actually produce innovative work. This is a laundry list of learnings from running my own innovation team at a big ad agency.
Choice Quote: "In order to juggle multiple Inventions at once, organizations are benefitted from adopting a pipeline structure similar to the methodology used in the pharmaceutical industry."
I was talking about Tinder back in January. In case you're keeping score, Mashable's first mention of the now de facto dating app was in May. That's right, readers of WhatConsumesMe can see 4 months into the future.
Choice Quote: "Everything Facebook isn't right now – anonymity, zero effort, and UI genius."
A post-mortem view into working with Facebook apps, Like data, and the unlikely return of micro-sites.
Choice Quote: "Facebook, in a brainstorm with our team, actually discouraged us from building the experience on their platform."
Over 338k views on Slideshare, that's bananas!
Thanks, again, dear reader.
19 Dec, 2013 – leave a comment
The blogger's blogger Jason Kottke (in a purposefully incendiary post) just declared the blog to be officially dead:
Sure, blogs still exist, many of them are excellent, and they will go on existing and being excellent for many years to come. But the function of the blog, the nebulous informational task we all agreed the blog was fulfilling for the past decade, is increasingly being handled by a growing number of disparate media forms that are blog-like but also decidedly not blogs.
Jason's not wrong. Social is our center of gravity these days, where our day starts and ends. Domain names are increasingly less valuable. Portals are throwback concepts. We should have never expected RSS to become a widespread human behavior (it belongs to the machines). The Buzzfeeds of the world have built empires off aggregating gold across the blogosphere and re-packaging it in the most link-bait ways. Communities like Reddit let you comment on anything and everything without needing a single point of view (which blogs have pushed most of us into).
While all of this is true, and blogs might be circling the grave, I wouldn't pick out the coffin just yet. Forty thousand people visited my blog this year (that's twice the size of my hometown) and spent a total of 50 days time consuming its content. My blog is a safe place where I can try out all of my new ideas, without the need to be pithy or friend-safe, and it also helps me collect all of my favorite reads in one place. My blog is my best resume and I don't think I would have landed any of my recent jobs without the product and process of it. I've met some of my best friends and most revered colleagues through it. If I tried to put a monetary value against it, personally, it's the most valuable asset I have.
Like Jason, my top referrer is social (Twitter to be precise). But my second top referrer, even above Facebook, is one of my favorite blogs on the planet.
I still urge every aspiring-whatever fresh out of school to start a blog. I still think most companies need one. Nothing makes you sharper than trying to say something worth listening to and nothing can attract like-minded friends and followers than a mountain of concerted attempts. True, you have more places than ever to publish your content and there are benefits to be had in the exchange. But if you have a laser focus, an obsessive set of typing fingers, and a reality distorting ambition, give it a shot.
Or not. Less competition means more reader's attention for me.
10 Dec, 2013 – one comment
A compass, I learnt when I was surveying, it'll… it'll point you True North from where you're standing, but it's got no advice about the swamps and deserts and chasms that you'll encounter along the way. If in pursuit of your destination, you plunge ahead, heedless of obstacles, and achieve nothing more than to sink in a swamp… What's the use of knowing True North?
When in the process of helping a client transform their practices and outputs, knowing the right thing to do is a paltry 1% of the challenge.
The difference between a great partner and an empty suit is in the navigation of organizational, political, and cultural swamps.